Smithing

Release Date
June 23, 2012
Players with 99

N/A

Smithing
is a skill that allows a player to smelt ores into
bars
, and craft armor and weapons out of bars. It almost completely relies on
Mining
in order to gather ore, unless you can find someone who is willing to sell you the ore that you require to make the item. A player can gain experience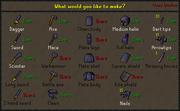 in this skill by either smelting ores using a furnace to make bars, or using the bars on an anvil with a hammer to make various armour and weapons.
Smithing can be a very profitable skill at high levels, as you make rune weapons and items. It is most profitable when you have mined the ore that you need instead of buying it from another player. Smithing takes alot of time to level up since you need to smelt the ore that you have mined into bars, which doesn't give much experience. Once you have smelted the bars, you can smelt them into weapons and armour, which gives you a high amount of experience compared to smelting the bars.
Smithing Level Up Sound.
Smelting Table
Edit
Smithing Table
Edit
When smithing your bars into metal items, you will be awarded experience per bar used to smith the item. The experience gained is different for each metal:
| Bronze | Iron | Steel | Mithril | Adamant | Rune |
| --- | --- | --- | --- | --- | --- |
| 12.5xp | 25xp | 37.5xp | 50xp | 62.5xp | 75xp |
The following table shows the level required to smith each item out of each different metal, as well as how many bars it will take to smith them. Remebmer that xp earned is based on bars used, so making an iron dagger or an iron axe will yield the same xp, for example.