Rod Of Ivandis



Quest Item

Yes

Tradeable?

No

Equipable?

Yes

Stacks?

No

High Alch

600

Low Alch

400

Store Price

not sold

Examine

A fully charged Rod, or a partialy charged rod.

Weight

2 Kg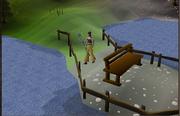 The
Rod of Ivandis
is created by players and is used to stun
Vampyre juvinates
and
Vampyre juveniles
. The rod is used in the
In Aid of the Myreque
quest.
The Rod of Ivandis has 10 charges and is made by using a sapphire-enchanted silvthrill rod on the well in Paterdomus from which water from the River Salve is drawn. It is only possible to make this staff during and after In Aid of the Myreque quest.
When used on Vampyre juvinates and juveniles when their hitpoints are low, the rod will suspend them in the air for a short time while you are able to use a Guthix balance potion on them. Every time the rod is operated, a charge is used.
Making the Rod of Ivandis
Edit
To create the Rod of Ivandis, players must first use soft clay on the coffin to make the mould found in the in the first cave entrance behind the Canifis bar. Then, players must acquire a Sapphire, a Mithril bar, and a Silver bar, and craft them together in any furnace. The resulting item will be a Silvthrill rod, which must be enchanted with Enchant Level 1 Jewellery and then dipped into the well within Paterdomus with a rope, which results in the Rod of Ivandis. The rod has 10 charges and once the 10 charges have been used, it will turn into rod dust.
Special Attack
Edit
Name: Retainer Special Attack Energy: 10%
This special attack just works on Vampire Juvinates east of Burgh De Rott. It stuns them in the air in order for you to use a Balance Potion on them. Each Rod of Ivandis can do the special attack 10 times before the Rod crumbles to dust.



Stab

Slash

Crush

Magic

Ranged

0

-1

+7

+4

0

Stab

Slash

Crush

Magic

Ranged

+2

+3

+1

+4

0

Other Bonuses

Strength

+3

Ranged

0

Prayer

0