Dragon Scimitar



Quest Item

No

Tradeable?

Yes

Equipable?

Yes

Stacks?

No

High Alch

60,000 coins

Low Alch

40,000 coins

Store Price

100,000 coins

Examine

A vicious, curved sword.

Weight

3 kg
The Dragon scimitar is the most powerful scimitar in the game. It requires 60 attack to wield and completion of the Monkey Madness quest. The Dragon scimitar is the most common weapon to train strength with in Project RS06. It can be purchased for 100,000 coins at Daga's Scimitar Smithy or from other players for various prices.
Special Attack
Edit
Name: Sever Special Attack Energy: 55%
This is a more accurate attack, and it will stop your opponent from using any protection Prayers for 5 seconds if it's successful.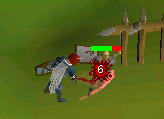 Stab

Slash

Crush

Magic

Ranged

+8

+67

-2

0

0

Stab

Slash

Crush

Magic

Ranged

0

+1

0

0

0

Other Bonuses

Strength

+66

Ranged

0

Prayer

0
Price watch
Edit